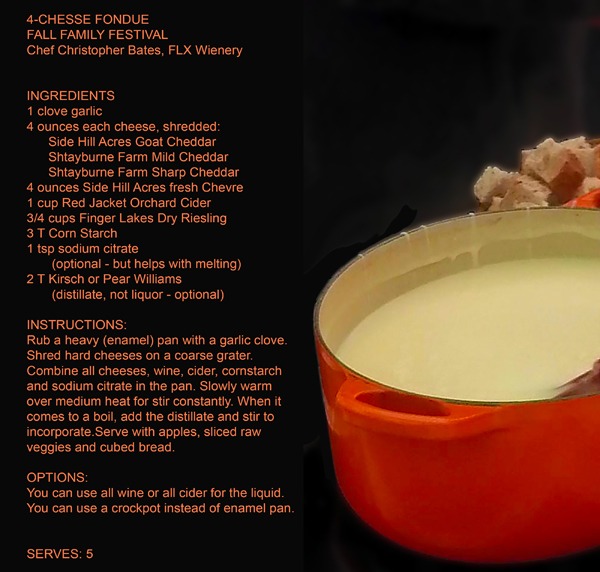 INGREDIENTS
1 clove garlic
4 ounces each cheese, shredded:
      Side Hill Acres Goat Cheddar
      Shtayburne Farm Mild Cheddar
      Shtayburne Farm Sharp Cheddar
4 ounces Side Hill Acres fresh Chevre
1 cup Red Jacket Orchard Cider
3/4 cups Finger Lakes Dry Riesling
3 T Corn Starch
1 tsp sodium citrate (optional – but helps with melting)
2 T Kirsch or Pear Williams (distillate, not liquor)
INSTRUCTIONS
Rub a heavy (enamel) pan with a garlic clove.
Shred hard cheeses on a coarse grater.
Combine all cheeses, wine, cider, cornstarch and sodium citrate in the pan.
Slowly warm over medium heat for stir constantly.
When it comes to a boil, add the distillate and stir to incorporate.
Serve with apples, sliced raw veggies and cubed bread.
OPTIONS:
You can use all wine or all cider for the liquid.
You can use a crockpot instead of enamel pan.
SERVES: 5