Welcome to Shtayburne Farm!
Fall Family Festival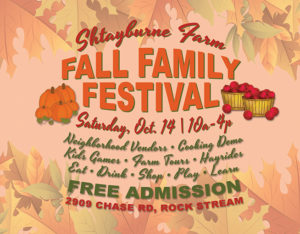 Our family invites your family to a day on our farm! There will be hayrides, farm tours, lots of games with prizes for the kids, pumpkin decorating contest, petting zoo, bounce house, cooking demo, and several local vendors including Silo Food Truck's Mac Express with their famous fried chicken and macaroni and cheese, Catharine Valley Crackers and Side Hill Acres Goat Farm. Admission is free, so bring the kids for an hour or the whole afternoon! It's sure to be fun!
SCHEDULE OF EVENTS:
10:00-4:00 KIDS' GAMES & PETTING ZOO OPEN
10:00-4:00 FARM STORE & VENDOR TENT OPEN
10:00-4:00 BOUNCE HOUSE & PLAY AREA OPEN
11:00, 1:00 & 3:00 HAYRIDES
12:00 & 2:00 GUIDED FARM TOURS
2:30 COOKING WITH CHEESE SEMINAR
3:30 PUMPKIN DECORATING CONTEST WINNERS ANNOUNCED
Featured Products
In addition to producing 15 types of artisan cheeses, we also create seasonal products such as gift baskets featuring our products.